Welcome to our latest development update for St James' Park, where we provide information about progress on-site and let you know what the next stages of development will involve.
Contact details for our community representatives are provided below and we would be happy to answer any questions that you may have.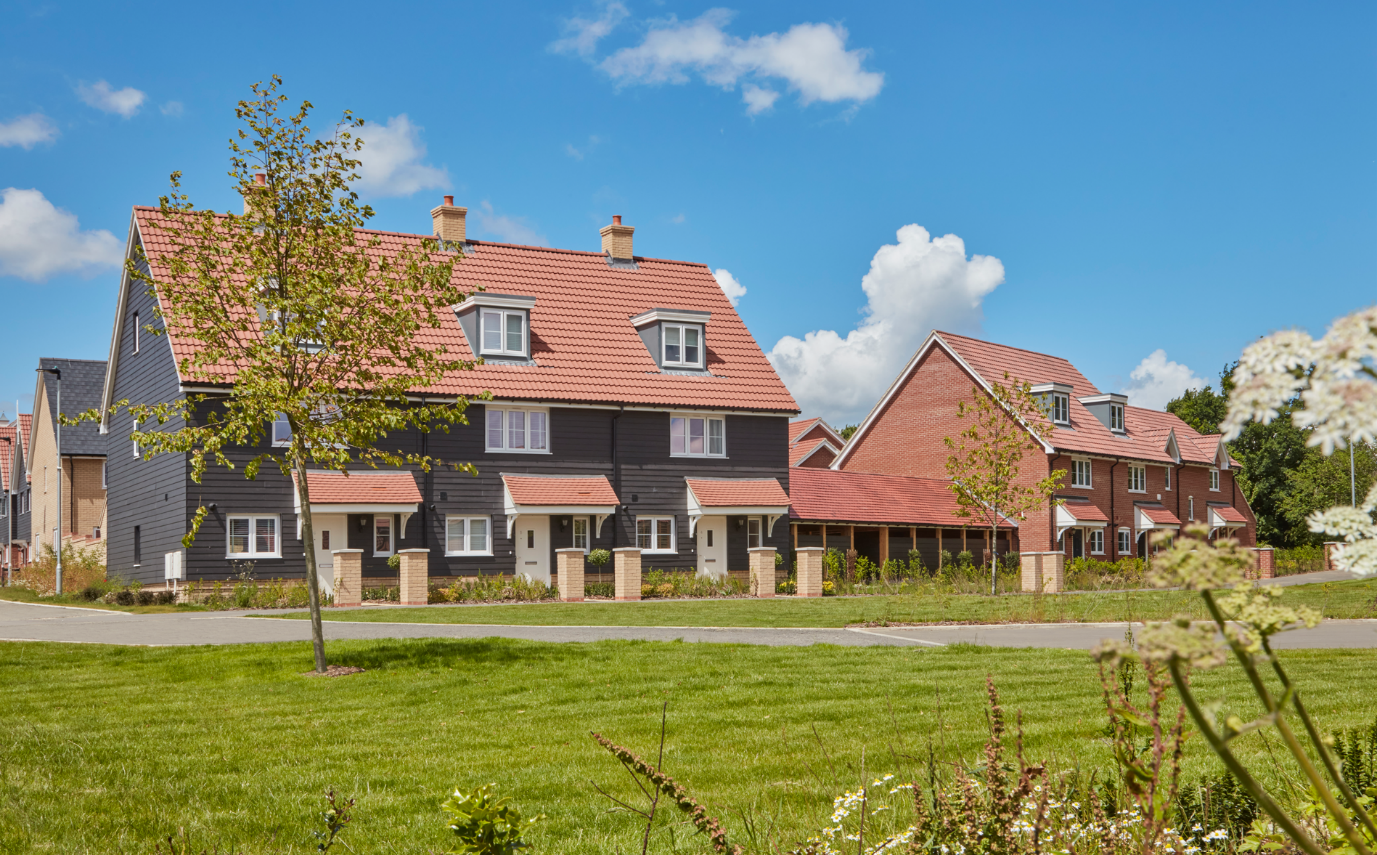 First Phase of Countryside Homes at St James' Park
Planning Update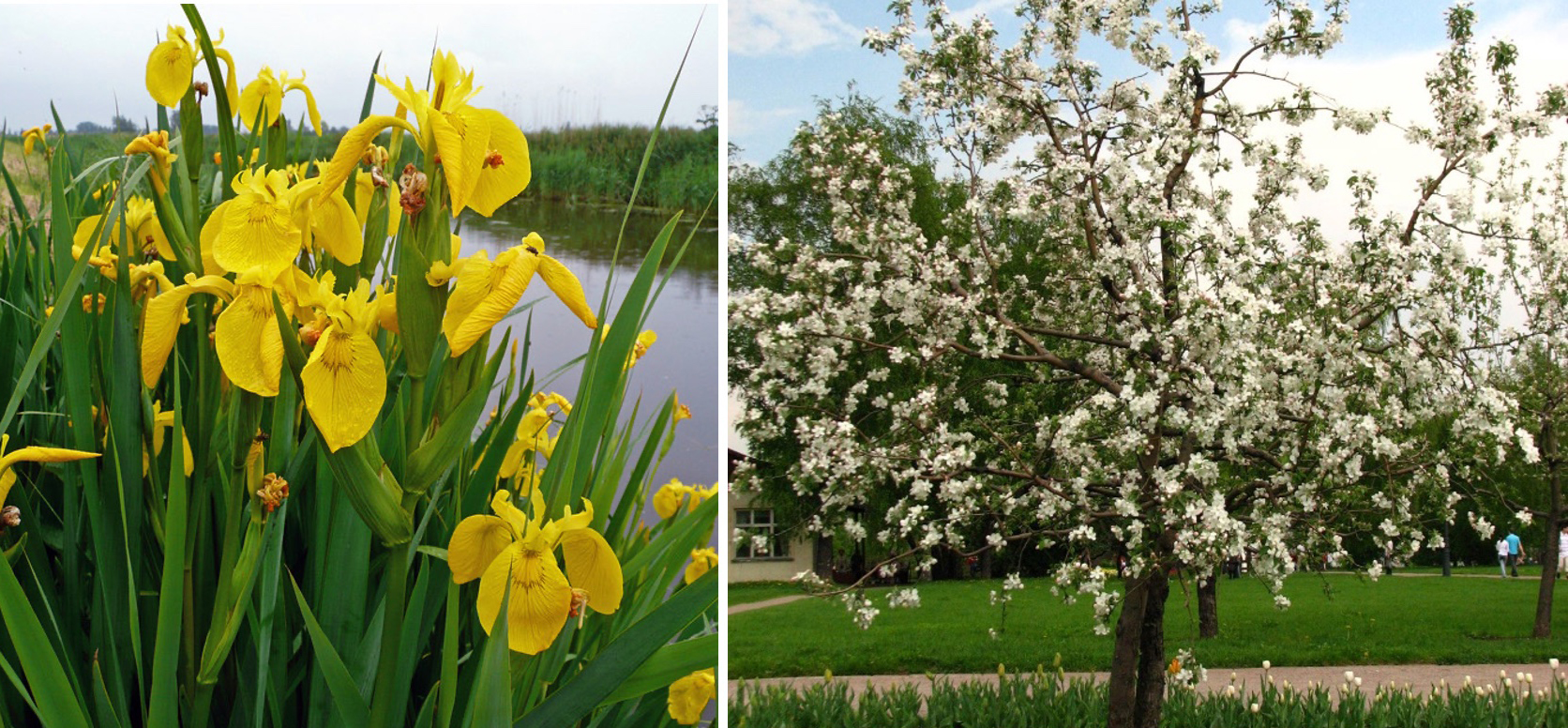 Landscaping on site, including Iris Pseudacorus (left) and Malus Domestica (right)
Our application for the Northern Open Space, where the new Tiny Forest will live, has been approved. St James' Park will be getting greener in coming months, with all landscaping areas to be planted (subject to weather conditions), including the buffer along Thorley Street. Countryside planted several trees across the site last year and the schedule will continue into the spring.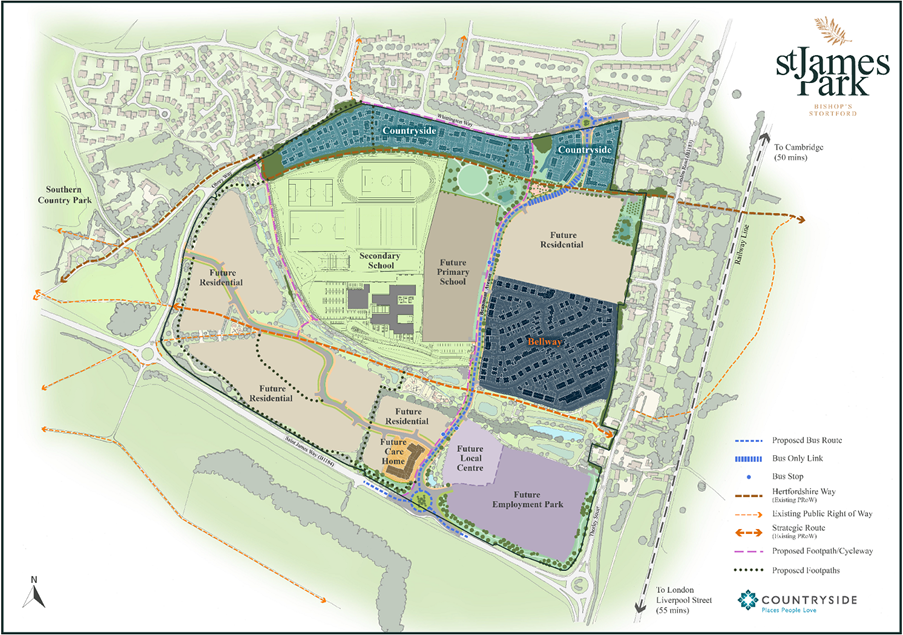 St James' Park Masterplan
We have made some amendments to our reserved matters planning applications and will be resubmitting them soon – the application for the Eastern Green Corridor was amended to incorporate drainage considerations, while the Periphery Parkland South and East Landscaping application has been amended to fit with Wrenbridge's most recent proposal for the employment park. We have developed a new landscaping scheme for the Periphery Parkland West and for the Green Corridor West area, and some minor revisions have been made to the windows on residential Parcel G2 towards the south of the site.
Development Update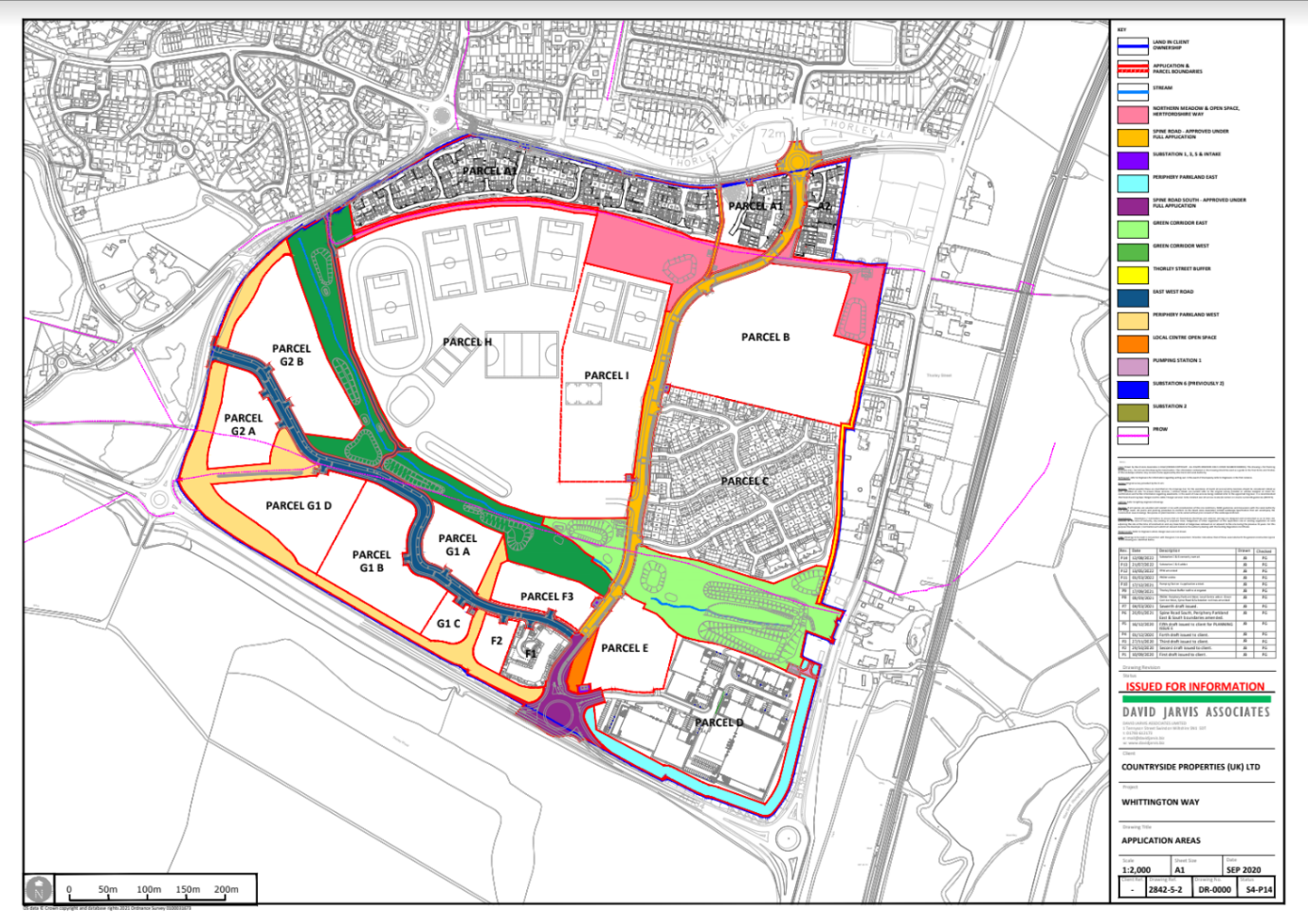 St James' Park Phasing Zone Plan
The Local Centre
The St James' Park local/neighbourhood centre parcel is currently being marketed and we will provide an update on this and what will be coming to the area in the coming months.
Residential update
House building is accelerating, with over 70 homes already occupied. Parcel G1, which is allocated as entirely residential buildings, is to be developed by Bellway who have submitted a residential application for 124 units. Parcel G2 which includes 103 dwellings has planning approval, including 40% affordable housing. The targeting start date for works on this Parcel is January 2023, with first completions anticipated for February 2024.
Alongside Countryside, Bellway is developing two parcels of land at St James' Park, building a total of 374 of the 750 homes. They started work on Parcel C at the end of March 2022 and are aiming to complete their show homes by the end of January/February 2023 and the first residents are expected to move in in early 2023. They are currently selling from temporary sales accommodation and are open for reservations. Work on their second parcel, Parcel B, should begin early 2023.
Care Home
The planning application for the care home at St James' Park has been approved and it is hoped that work will start in early 2023.
New Play Area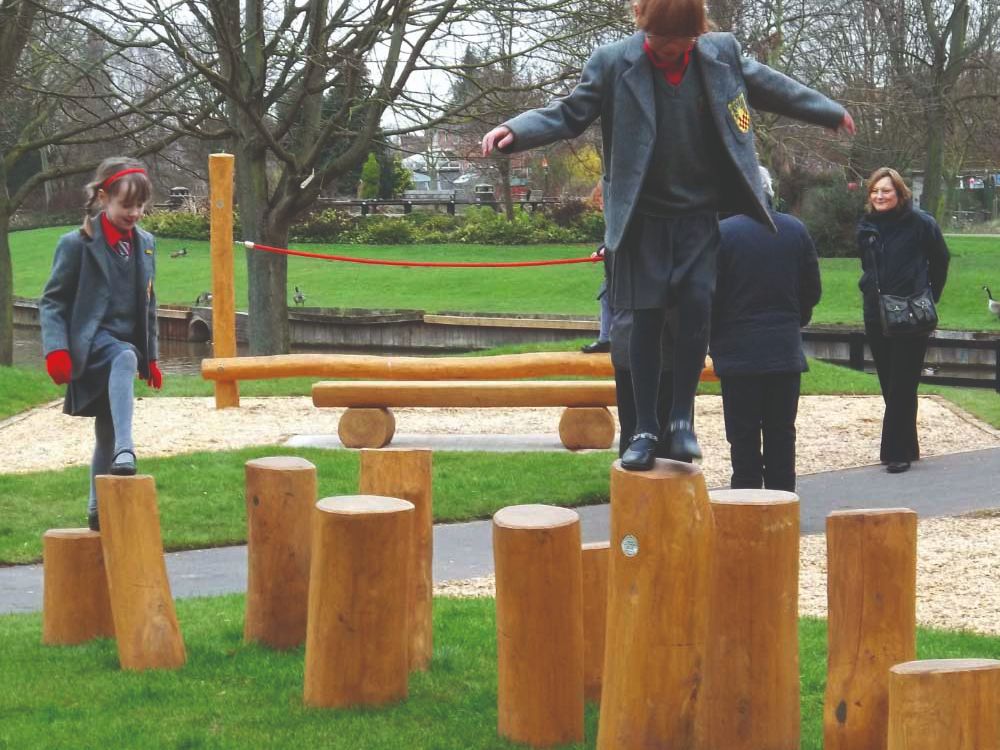 Example of the stepping logs to be found in the new play area
The new play area in Parcel A1 was officially opened for use before Christmas and is now available for all residents to enjoy.
The type of play equipment is called a SuperLEAP, which incorporates Bishop's Stortford's Roman history whilst the play equipment is all timber-based ranging from a small playhouse to a climbing tree pole. Slides, climbing structures, see-saw and carousel should provide an exciting playtime, whilst a bird-nest swing will be a relaxing cradle to lie back in.
Toddler to pre-teens can enjoy the SuperLEAP progressing from the small timber play equipment to the more challenging. Play equipment includes: toddler slide, climbing frame, scramble tunnel and separate trampoline, for older children there is an accessible bird nest swing and wheelchair-accessible carousel, with more challenging equipment such as stepping logs, a standing seesaw, vertical climbing post and two multi-play items with slides, sliding poles, climbing nets and wobble bridges.
The SuperLEAP has a bay hedge boundary with seasonal and edible planting, encouraging foraging and providing a local accessible kitchen garden for local residents. The planting palette is a garden of Roman herbs such as rosemary, sage, thyme, with interplanted flowering perennials, grasses, evergreen shrubs and edible currents. Interspersed between the play equipment are Ginkgo and Juneberry trees with dramatic autumn colour, with smaller and taller trees along the boundary with beautiful spring blossom.
The Bishop's Stortford High School
Contractors working on behalf of Hertfordshire County Council have now recommenced on The Bishop's Stortford High School site at St James' Park with the foundation being put in for the building. We are waiting for details of the construction programme and timings which we hope to be able to share with you in the next update.
Highways Update
There has been a great deal of progress since the last update. The roundabout entrance off St. James Way is already finished and the North-South spine road, to be known as Beaumont Avenue, is nearly completed. The main works have been the new crossing on Whittington Way.
Public Rights of Way Closure
Hertfordshire County Council approved the closure of the Southern Public Right of Way route through St James' Park for the second half of 2022 to protect pedestrians from the construction work. Alternative routes were provided, and with much of the localised work now complete it is hoped that most of the route can be reopened as soon as possible.
Whilst the construction works on residential Parcel G2 are carried out the route through the site will remain open, however the top of the fork towards Obrey Way will be closed for two to three years, for health and safety reasons. A temporary diversion around the play area and G2 will be in place.
The next phases of work are delivering the East-West spine road to connect the site and enable construction to the remaining residential parcels, which will also include some earthworks and sound attenuation works. This new road will be named Mountbatten Way after the late Prince Philip, Duke of Edinburgh.
Wrenbridge's Employment Centre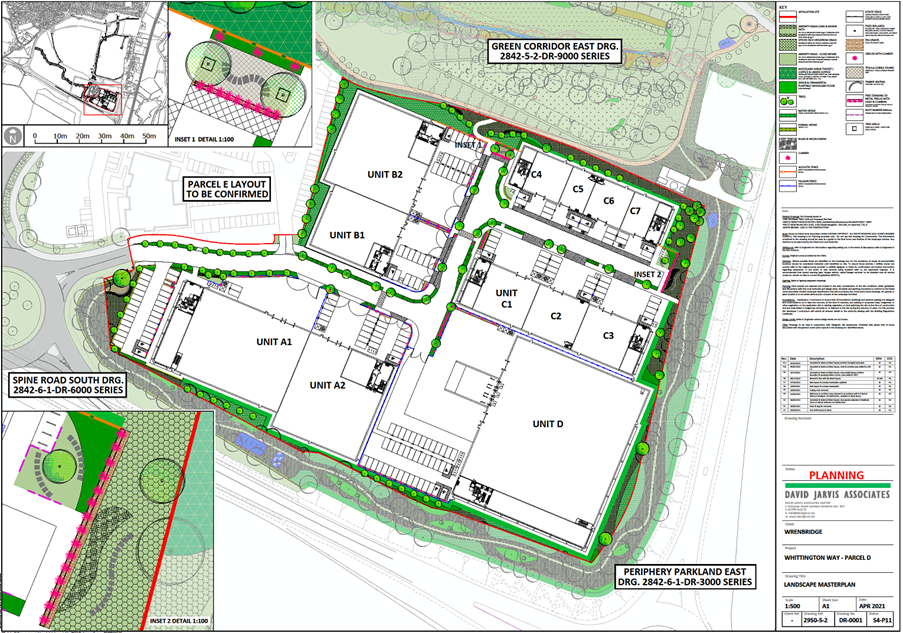 Employment Centre site plans 
In August 2022, Wrenbridge was granted consent for its Reserved Matters Application for the St James' Park employment park. Wrenbridge and Countryside are carrying out earthworks in Parcel D and the surrounding areas including movement of soil and ground improvement. This should be completed in mid-January 2023, and they anticipate the main construction works will start in January 2023 and complete towards the end of 2023.
To make sure the whole of St James' Park is a cohesive neighbourhood with everyone working towards the same vision, Wrenbridge is hiring the same consultants, civil engineering contractors and design engineers as Countryside.
Wrenbridge is committed to continuing to liaise with the local community throughout construction. Their contractors, Glencar Construction, will be required to be part of the Considerate Constructors Scheme. They produce regular newsletters delivered to neighbouring residents and businesses as well as published online at: www.stjamespark-employmentpark.com. They will also be arranging a session for the local community to meet the team from Glencar Construction in early 2023 ahead of the main construction works beginning. Email: hello@stjamespark-employmentpark.co.uk for more information.
Community Engagement
Supporting Grove Cottage

Grove Cottage In The Park 
Countryside was proud to be the headline sponsor of the 'Grove Cottage In The Park' 2022 food and music festival held on Sworders Field in support of Grove Cottage. With live music from local bands and community groups, and a set from local comedian Paddy Lennox, the day was a huge success. Over 1,000 visitors descended on the park, raising around £11,000 for Grove Cottage, the home of Mencap in Bishop's Stortford who provide social and educational activities for people of all ages with a learning disability.
Tiny Forest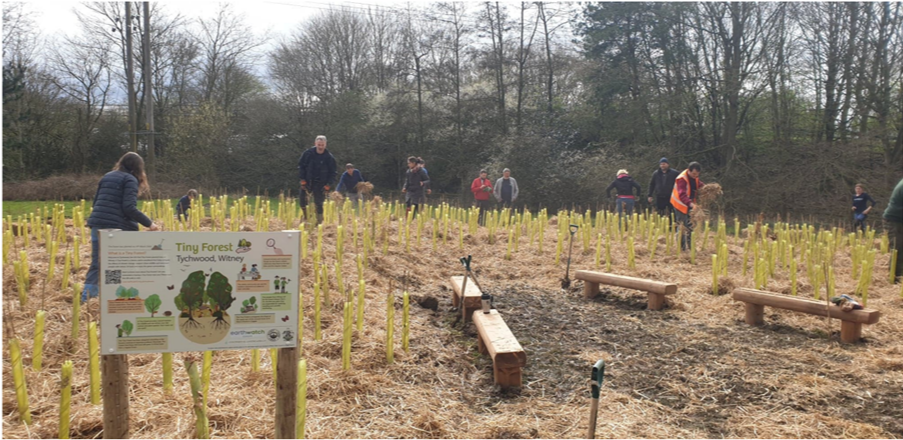 Planting at a Tiny Forest in Witney UK
The team at St James' Park are excited to be working with Earthwatch to bring a Tiny Forest to the site. The Tiny Forest will be the size of a tennis court with around 600 trees planted in it, and it will live within the Northern Open Space Parcel.
A Tiny Forest is a small but fast-growing woodland that uses established forest management methods that allow it to thrive. The trees planted within the Tiny Forest will grow via accelerated forest development, instead of using harsh chemicals and fertilizers. These Tiny Forests help reconnect people to nature, enhance their wellbeing, and mitigate the effects of climate change and pollution, and this is exactly what we want to bring to the St James' Park Community.
Earthwatch work closely with governments, policymakers, and developers to bring the amazing benefits of a forest to urban spaces. The first Tiny Forest was planted in the UK by Earthwatch in 2020, and the organisation has since planted over 150 Tiny Forests across the country. 'Citizen Scientists' will collect data from the Tiny Forest to monitor how it develops, but also to record how it is benefiting the environment. Other Tiny Forest communities have found that they discover a growing variety of wildlife come to their forests, such as woodpeckers, different species of butterfly and families of squirrels.
To help keep the St James' Park Tiny Forest alive, we will need volunteer tree keepers who will help look after the forest. This is where we need your help. If you are passionate about nature, conservation and helping your local community, please reach out to us for this opportunity to get involved. You do not need to have any experience in maintaining woodland and trees, just a willingness to help!
It is hoped that the Tiny Forest will be planted during the January – March 2023 planting season.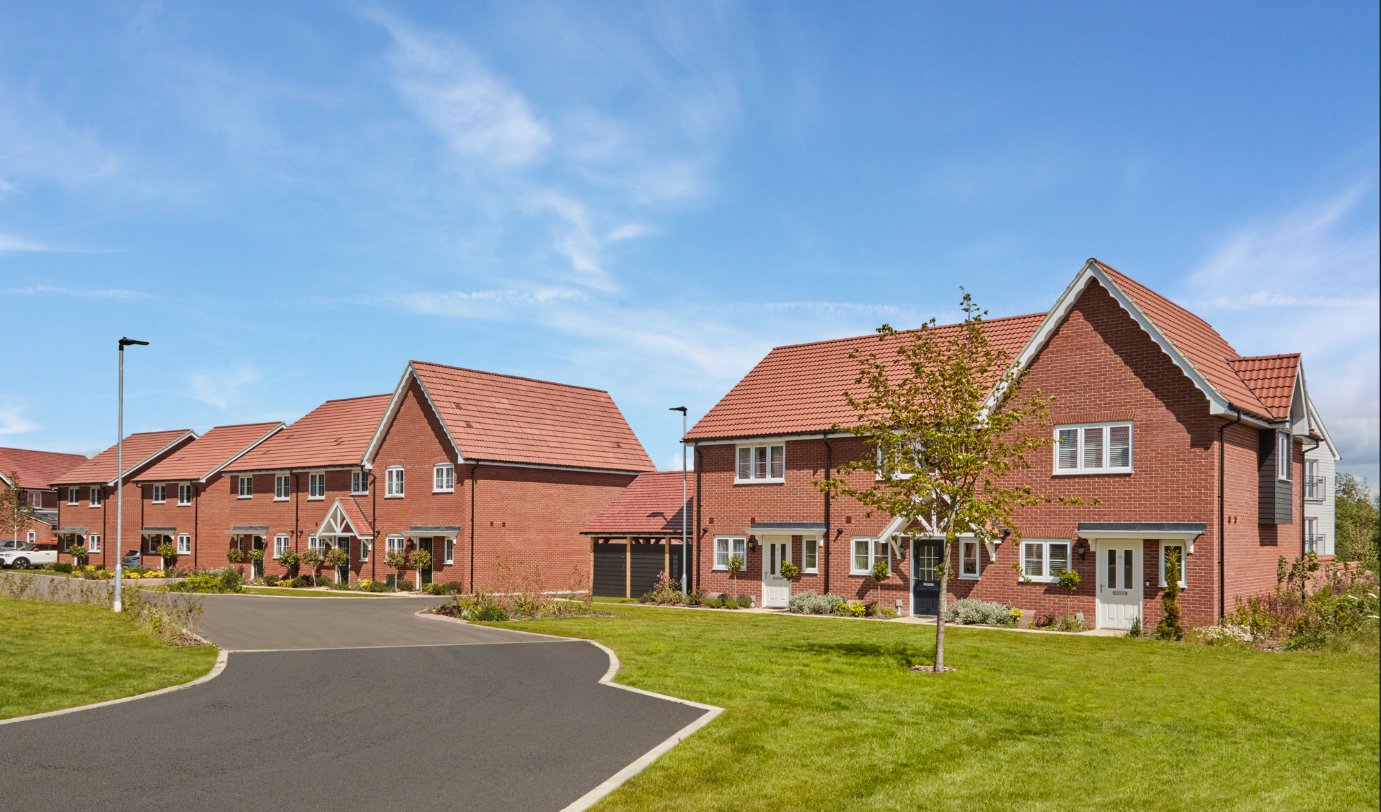 First Phase of Countryside Homes at St James' Park
Get in touch
Do you have any questions after reading this update? Get in contact by emailing: community@st-jamespark.com, calling: 07883 731491 or visiting: www.st-jamespark.com.