Bishop's Stortford community joins forces to plant native woodland in celebration of St James' Park's Tiny Forest initiative in partnership with Earthwatch Europe.
On Tuesday 21st March, Countryside's St James' Park development launched its Tiny Forest initiative with the help of the local community. Tiny Forests is a programme run by Earthwatch Europe, an environmental charity and Independent Research Organisation, which works with local communities and partners to plant and maintain dense and fast-growing native woodlands, to reconnect people with nature and raise awareness of climate change.
Welcoming approximately 100 members of the local community, including local councillors, pupils from The Bishop's Stortford High School, Thorley Hill Primary School and members of Grove Cottage, the home of Bishop's Stortford Mencap, a total of 600 trees were planted on the day as part of the new St James' Park native woodland, marking the launch of Bishop's Stortford's new Tiny Forest.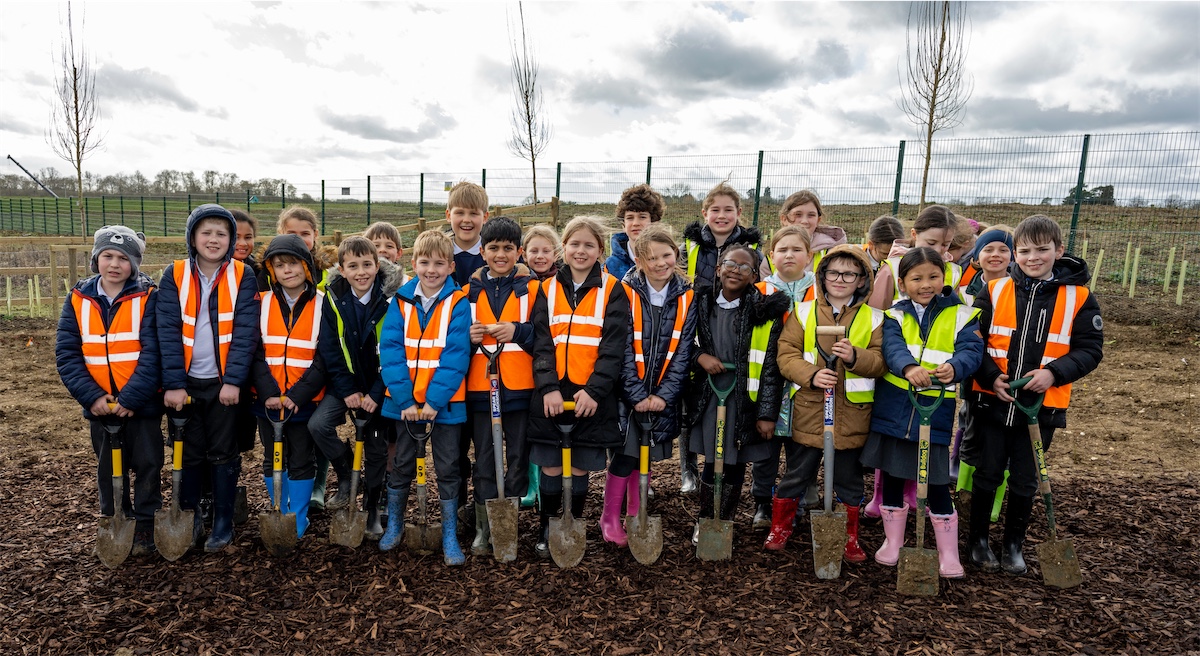 The dense, fast-growing woodland, approximately the size of a tennis court, will comprise a variety of 17 native tree species, providing a nature-rich accessible green space for the benefit of the local community. Situated within the wider open space being created at St James' Park, and adjacent to the planned new primary and secondary school on-site, it is hoped that the Tiny Forest will provide an inspiring outdoor classroom for local schools and members of Grove Cottage, as well as providing a space for residents to relax and appreciate nature, enhancing health and wellbeing.
With environmental issues such as flooding, heat stress and loss of biodiversity increasingly affecting urban areas, together with Earthwatch, St James' Park seeks to reconnect residents with nature by highlighting the importance of greenspace, alongside helping the local community mitigate the adverse effects of climate change and providing habitat patches to support wildlife.
With the help of the Tiny Forest Tree Keeper Team, made up of volunteers from the local schools and community, Earthwatch will continue to monitor the progress of the Tiny Forest.  The Tree Keeper Team will act as ambassadors for the forest, helping to plant, maintain and monitor the forest in the early years, collecting data on the forest's growth, carbon storage and biodiversity.
Placing sustainability at the heart of what the business does, Countryside has committed to becoming a net zero company by 2030 and will continue to work with partners to achieve this important aim.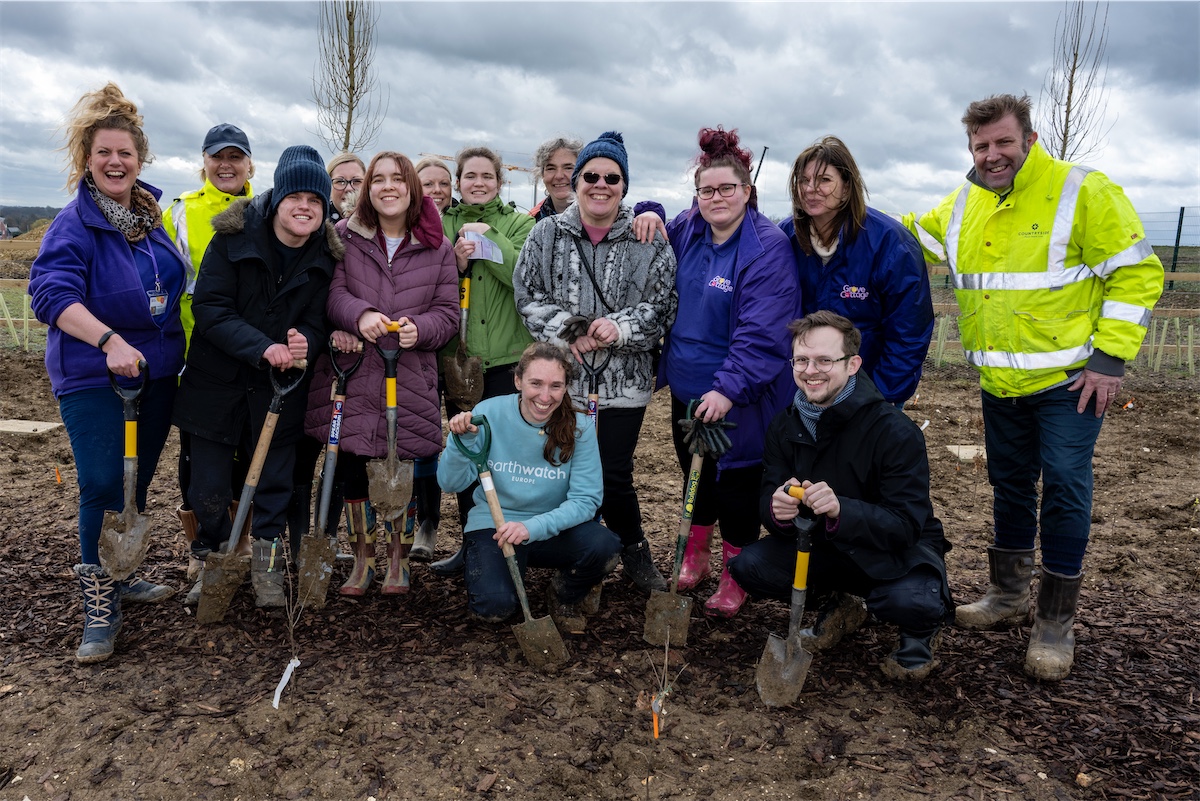 Martin Leach, Managing Director, Strategic Land, Countryside said: 'It was wonderful to see so many members of the community taking part in the planting day and commit to being Tree Keepers.
We are proud to be partnering with Earthwatch Europe to establish a Tiny Forest here at St James' Park for the benefit of our residents and the wider local community. At Countryside, we always strive to create engaging open spaces that not only contribute to place-making and the health and wellbeing of residents, but also improve biodiversity and habitats that support local wildlife.
Through this unique science-based project we hope to bring together local groups alongside our new residents, in purpose-led volunteering, connecting them with nature whilst learning more about climate change and the importance of introducing nature into urban areas." 
Emily Pennifold, Tiny Forest Project Manager at Earthwatch said: "We're so pleased to plant a Tiny Forest with the support of Countryside here at St James' Park.
We had such a great time with the local community, Mencap group and school children who helped to create this fantastic forest. Each Tiny Forest that we plant has a positive impact on its community and we're looking forward to working with the local schools, groups and residents to care for their new Tiny Forest. It's very special to have this forest so close to the schools as the children will be able to see the trees that they planted growing up alongside them."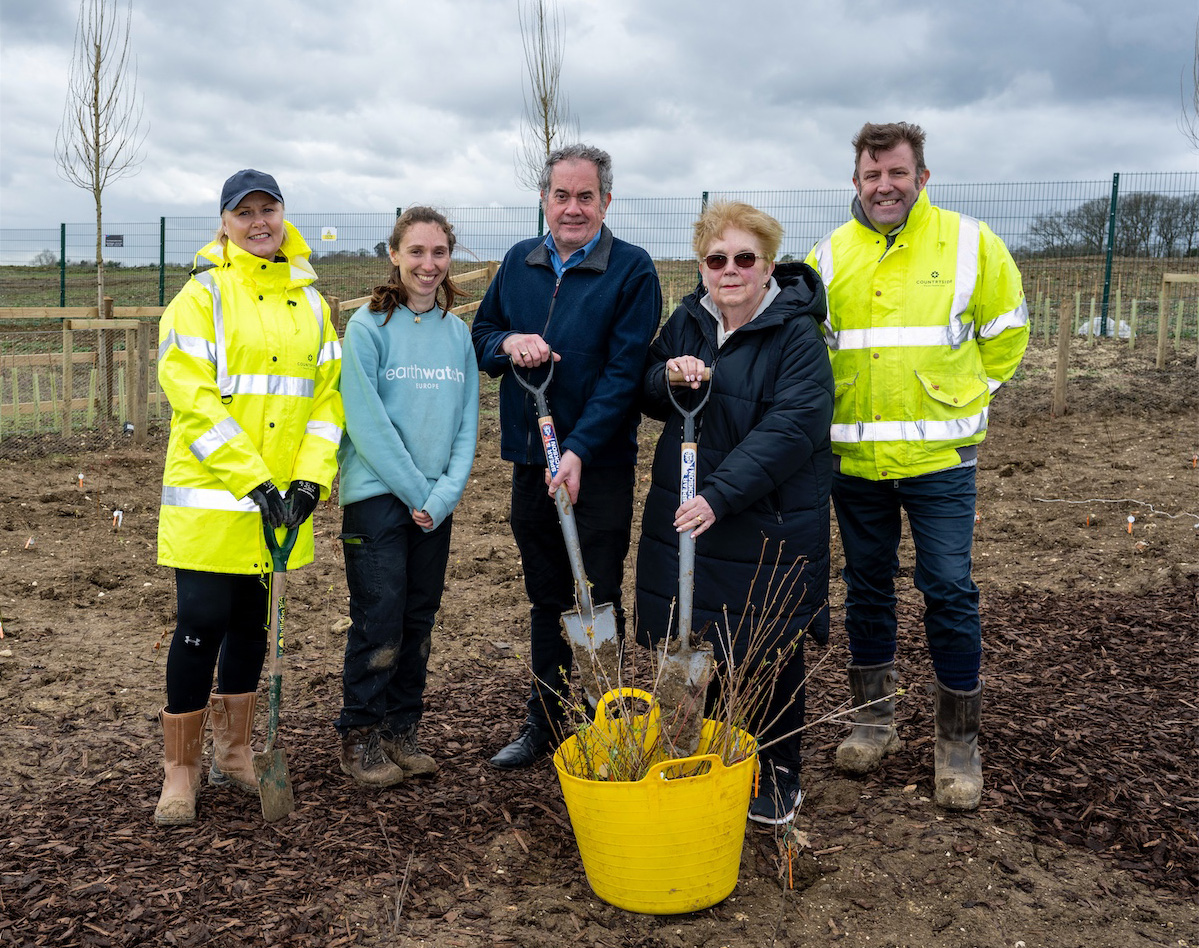 Jocelin Warren, Operations Manager at Grove Cottage said: 'At Grove Cottage we run a Gardening Group for adults with learning disabilities  – Grove Grows.  The aim of this club is for our members to learn to grow and care for plants and enjoy nature whilst working in partnership with the local community, therefore we were delighted to be invited to be part of this fantastic new project.  It is so important for the local community to work together to maintain green spaces that will help maintain a better future for all.  We look forward to and will take pride in watching the Tiny Forest grow over the years to come."
Dale Reeve, Headteacher of The Bishop's Stortford High School said: "We are very pleased to be involved with the Tiny Forest project, which will border our new School site in St James's Park. It's a great opportunity for our students to be involved in the early stages of a project that highlights the importance of nurturing the natural environment in our drive to improve sustainability. Their generation will play a key role in reducing the impact of climate change, and what better way for them to see just how they can make a difference. We look forward to watching the forest grow and helping to maintain and monitor it over time."
To sign up to be a Tree Keeper please email: tinyforest@earthwatch.org.uk